Successful Live Demonstration @Hafen Hamburg
On 9 December 2020, the consortium of UrbanSmartPark presented their research results at the Landungsbrücken in Hamburg to the public. The NFF demonstrated its Automated On-Street Valet Parking function so that interested citizen and press representatives were invited to take a seat in the test vehicle TEASY 3 for a demo drive. The automated driving function starts at the S-Bahn station Landungsbrücken where the driver would theoretically request the service of Automated Valet Parking. The vehicle receives the location of the next free parking spot from the backend of Fraunhofer, drives autonomously to the parking area and fulfills the parking maneuver. The event received very positive feedback and a lot of attention from the local press as well as from the citizen of Hamburg. The video below gives an impression of the overall event:
With the live demonstration in Hamburg and the virtual conference on 16 December, the project UrbanSmartpark officially ended. All project partners achieved very valuable results to improve and to design parking-related services. The work will be continued in future project funding frameworks.
Final Event – Update: 16th December 2020
Originally, it was planned to have a hybrid conference and live demonstrations in the harbor area in parallel. Due to Corona restrictions, we have to move the conference to a fully virtual event and postpone it to 16th December 2020. The live demonstrations in Hamburg will still take place on 9th December 2020. For detailed information, see the information below or our updated flyer: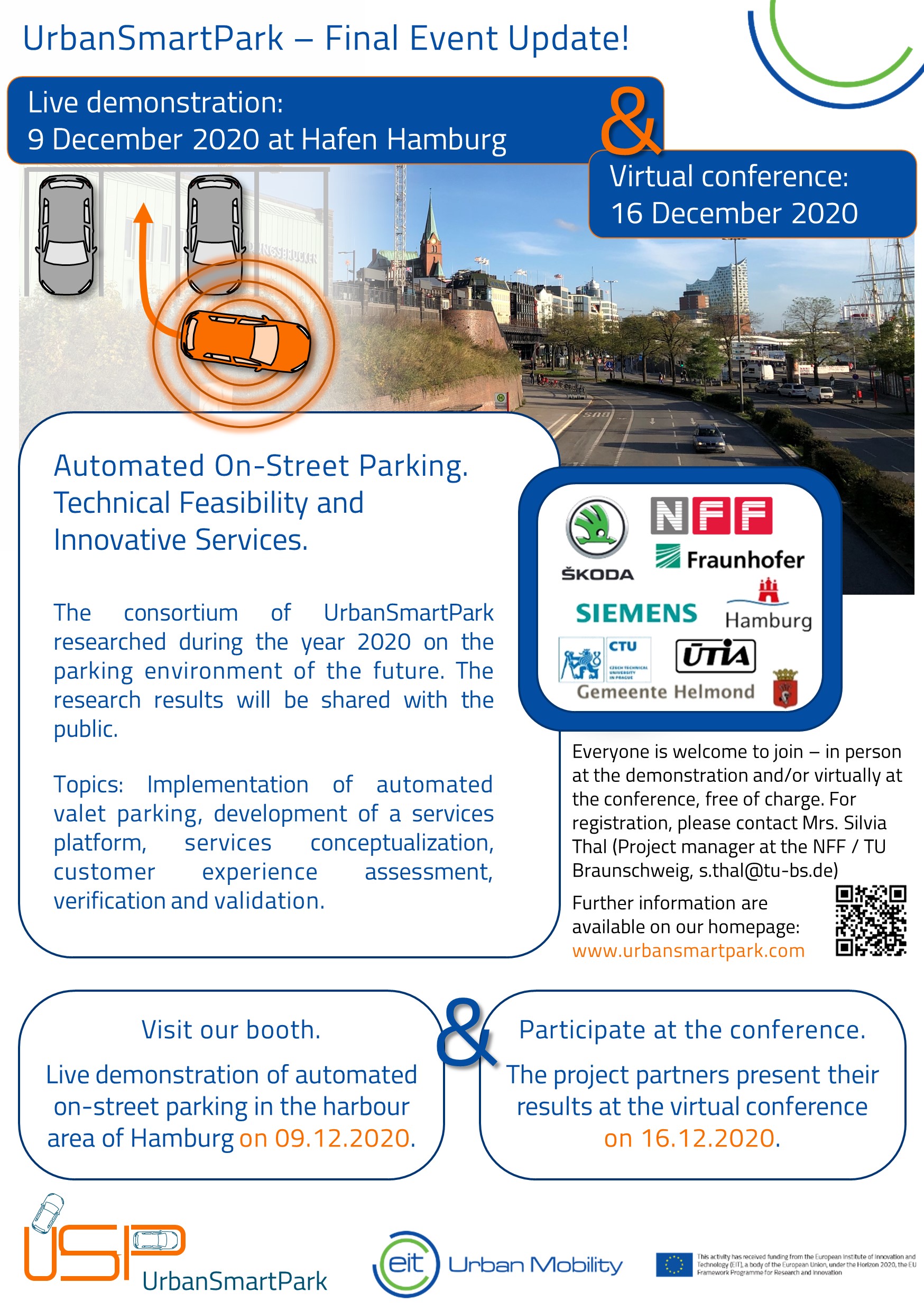 Live demonstration on 9th December 2020 @ Hafen Hamburg - Meet us there!
We will demonstrate and showcase Automated Valet Parking and Services in the harbor area in Hamburg. From 9:00 – 16:00, automated driving and parking demonstration drives will take place. In parallel, you can inform yourself on our project and its results or talk with the project managers at our booth.
There is no registration necessary, everyone is welcome.
The figure below shows the route of the demo drive as well as the location of our booth @ the on-street parking area.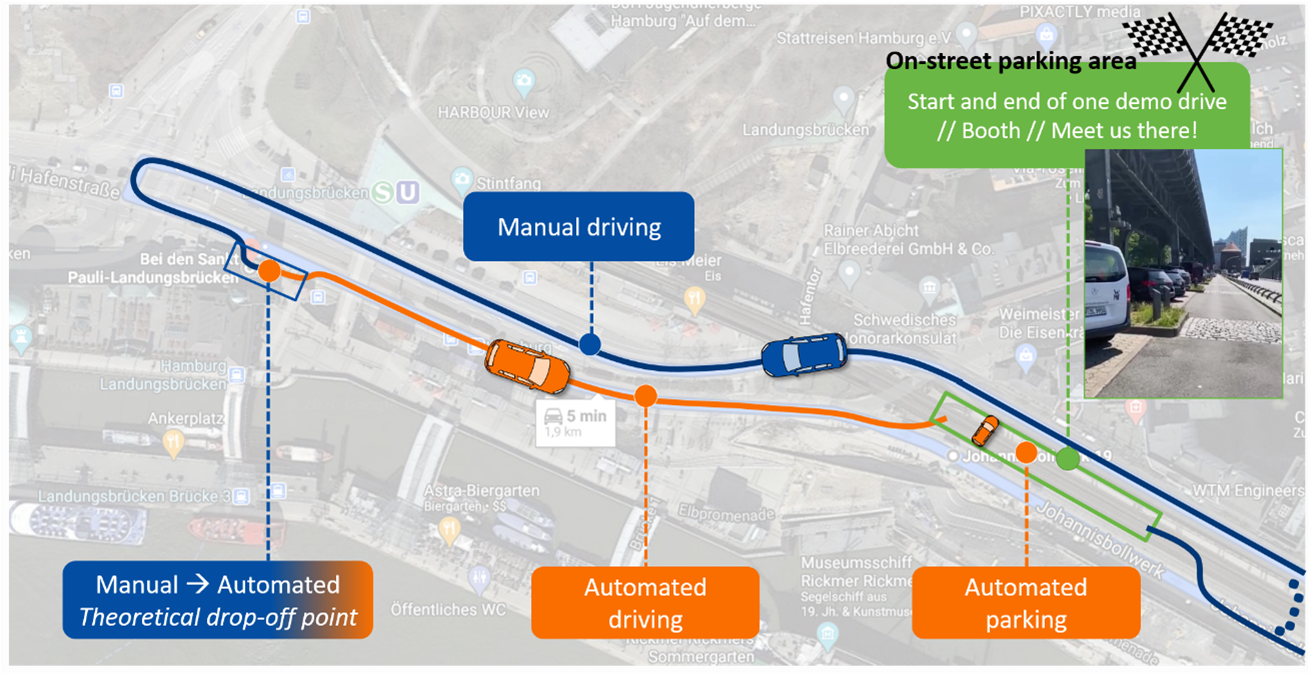 Virtual conference on 16th December 2020 – Register now!
The consortium wants to share and open their project results to the public. Not only representatives from industry are welcome to join but also citizens who wants to learn more about the transformation of the parking environment. The following topics will be presented:
Implementation of automated valet parking, development of a services platform, services conceptualization, customer experience assessment, verification and validation.
The conference is streamed virtually, free of charge. It will take place on 16 December from 09:00-14:00.
For registration, please contact project manager Mrs. Silvia Thal (NFF / TU Braunschweig, s.thal@tu-braunschweig.de).
Description
The project UrbanSmartPark uses emerging trends in the mobility sector as vehicle automation, electrification as well as the demand for convenient mobility by aiming to design and implement customer-centric parking-related services. With the parking process of today with no added value but causing congestion and emissions and occupying public space, the field offers possibilities to propose added value to not only vehicle users but also city authorities and vehicle providers. In particular, vehicle automation is a door-opener for innovative services and new business models which are being elaborated during the project. Demonstrations of possible future applications of automated parking are shown to the public at city level contributing to a positive external view of this technology. In parallel, services with a high technology-readiness level are designed as the commercialization of these services through a services platform is as well part of the project scope. With an interdisciplinary consortium with partners from industry, academia and cities from four different countries, the project contributes to a change of the parking process as we know it today.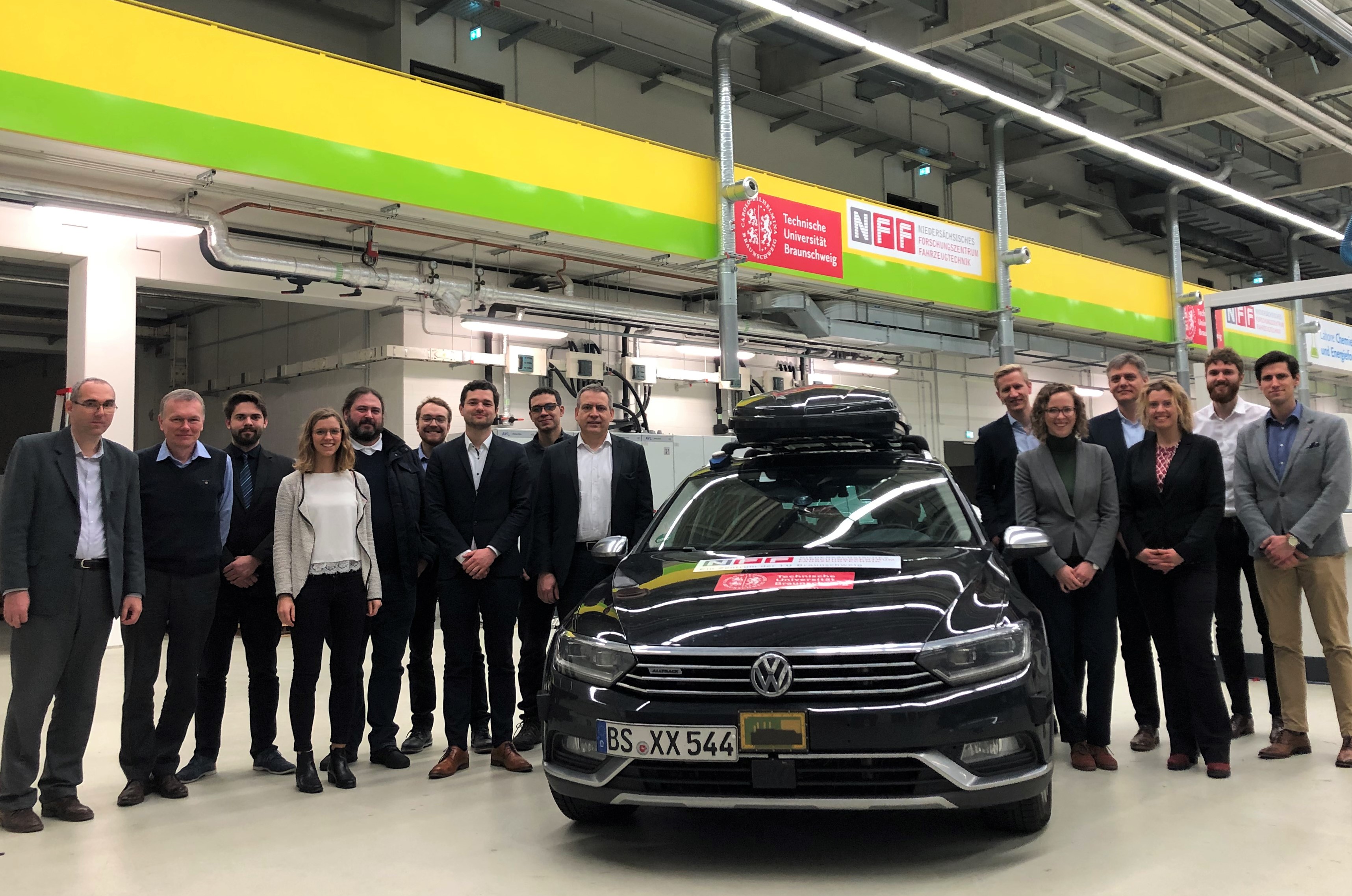 Activity duration: 01.01 – 31.12.2020
Project consortium: NFF / TU Braunschweig, Fraunhofer, UTIA, CVUT, Siemens, SKODA Auto, City of Hamburg and City of Helmond

This activity has received funding from the European Institute of Innovation and Technology (EIT). This body of the European Union receives support from the European Union's Horizon 2020 research and innovation programme. EIT Urban Mobility aims to accelerate solutions and the transition towards a user centric, integrated and truly multimodal transport system. As the leading European innovation community for urban mobility, EIT Urban Mobility works to avoid fragmentation by facilitating collaboration between cities, industry, academia, research and innovation to solve the most pressing mobility challenges of cities. Using cities as living labs, its industry, research and university partners will demonstrate how new technologies can work to solve real problems in real cities by transporting people, goods and waste in smarter ways. For more information visit www.eiturbanmobility.eu.
Goals
UrbanSmartPark focusses on the development and pilot demonstration of automated vehicles that simplify driverless on-street inner-city parking and provide a broad range of possibilities for parking-related services. The vision can be narrowed down to the two main objectives:

Objective 1: Customer-centric services design

Based on extensive market analysis and qualitative as well as quantitative European-wide customer studies, customer-centric, parking-related services are created and designed. Hereby, one focus is set on services being enabled through vehicle automation as they promise disruptive changes in the parking services environment. On the contrary, services with a high TRL and being therefore close to a market integration are also considered. In the future, services will be provided to the customer by a platform-based solution. The development and implementation of such a platform is also within the project scope.

Objective 2: Implementation and demonstration of automated on-street parking and services

The implementation of automated on-street parking is carried out on test vehicles available in the consortium. For the functional development, there are three main research fields: A perception concept for the free parking spot detection, the interaction with vulnerable road user as well as the HMI design. In parallel, a digital twin of the parking environment is designed and implemented in order to verify and validate automated driving functions in a simulation framework.

The demonstration of the functionalities and its services is part of the project plan to outreach to citizens in order to increase technology understanding and technology acceptance.
Work plan
The project activity is organized in four work packages, which are Use-Cases, Business Models & Services, Functional Development and Validation, Testing, Demonstration.